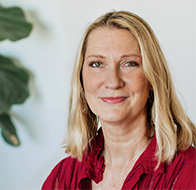 Though an American girl through and through, Kate McCarthy was lucky enough to be born in Thailand. She spent sixteen amazing years living in Southeast Asia. Looking back, this incredible access to art, travel and Asian cultures undoubtedly was the fuel behind her curiosity. Immersed in these vibrant cultures, Kate's convinced her design sensibilities were forever shaped by the vivid images of that part of the world.
California seemed like the next best thing to tropical lands, so she attended California College of the Arts in the Bay Area. Armed with a BFA, Kate landed her first real job at Colossal Pictures in San Francisco, where she worked as an animator on national accounts, including The Gap and Boise Cascade.
Moving on to Austin, Kate fell in love with the big skies, big legends and big hair of Texas. She worked as a senior animator for an animation studio and then was hired as Art Director at KXAN-TV. She thrived on the hectic multimedia mix of broadcasting, so it was only natural for her next career move to be KGTV, the ABC affiliate in San Diego.
Working as Art Director at KGTV at the height of the news industry earned Kate multiple national and international awards for print, animation and set design. She loved the challenges of her work at the station, but after 10 years, she decided it was time for a really big change.
So in 1998, she founded Studio M, a design studio that ultimately attracts well-known clients such as the American Cancer Society, AARP, Intuit, and the University of California.
Many years later, Kate lends her spirited design and business acumen to help purpose centered organizations to connect with their audiences in an impactful way. She and her team creates brand identity, website design, print collateral and large scale graphics for built environments. And just like when she lived across the globe in Thailand, she's still obsessed with all things designed. Only now, she gets to shape content into a narrative in a way that teaches, inspires and impact our world in a meaningful way.