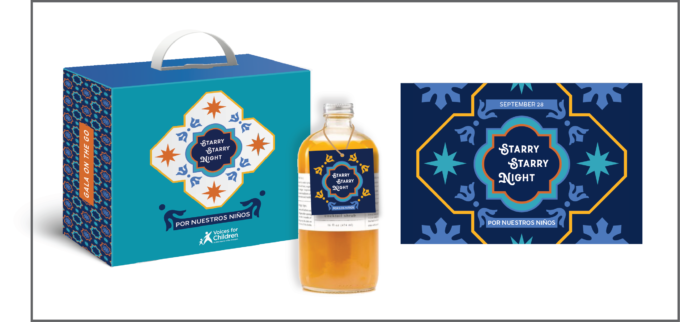 What should you think about when hosting a virtual event?
As the world struggles to reopen its doors, it's clear that virtual events are here to stay. Nearly 80% of companies now expect to host events that include a virtual attendance option (Martech, 2020). In a time of digitally fatigued audiences, creating a virtual event that's carefully crafted can be a great way to connect with your customers and raise significant funds. So, how do you craft a personalized, engaging experience?
One of our favorite clients, Voices for Children, asked for our help to pivot their annual in-person gala to a virtual event. VFC provides abused children with volunteer Court Appointed Special Advocates (CASAs), and their gala is a critical fundraiser for them. We were delighted to help ideate solutions for this first time endeavor.
We created a list of considerations for the VFC team that helped us all think through the various aspects of the event, from branding and marketing to content themes. This sparked ideas on how to brand the event to keep it fresh and engaging. Once we designed a brand for the event, we applied it to all print and digital materials. The client was supplied with assets they could use for their marketing.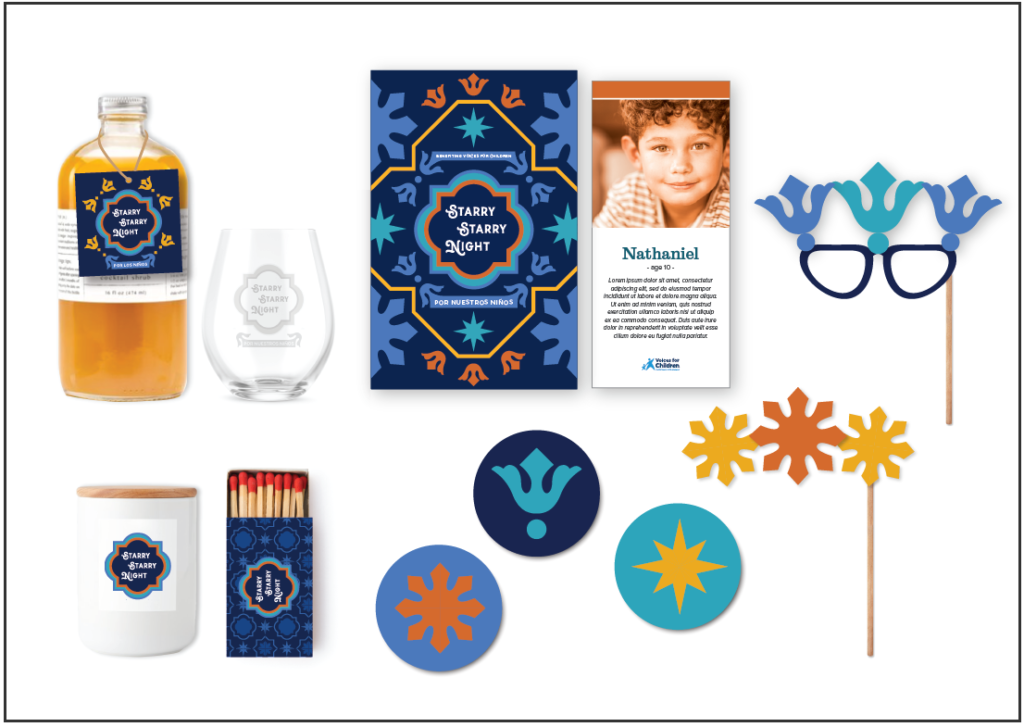 VFC's resourceful team came up with some great ideas – a performance by a local youth orchestra, a live auction, and engaging video testimonials by their CASAs. VFC also sent "Gala-on-the-Go" boxes to registrants filled with table decorations, an event guide, and an Instagram selfie prop.
The final donation result? $1.28 million in funds raised with $300,000 in sponsorships. Our client also gained new donors who might not have attended an in-person event, and increased awareness for the organization.
I followed up with Amanda Schaap, Communications Director for VFC after the event. She said, "I was absolutely happy with the event! The audience was engaged and generous, and were grateful for flexible opportunities to engage in different formats, whether they were watching the event live or recorded."
Here's part of our conversation:
Studio M: How did pivoting to an online format affect your thinking on branding and marketing?
Amanda Schaap: Since virtual events were relatively new to our audience, we had to set up clear expectations for our participants for how to engage in an online platform. We came up with ways to extend event branding into their homes by offering Gala-on-the-Go boxes.
It also changed the way we thought about our sponsorships and the benefits they would receive without the usual physical signage and program. We put more focus on incorporating the sponsors into our social media posts. The biggest difference in our marketing was in our communications with the attendees who signed up.
Are there any successes you'd like to share?
Our stewardship of our donors is what led to the success of the event. We took the personal approach of talking with our donors in advance, as our relationships with them are what really matters. Many donors chose the option to donate before the event to show their support. We also followed up with post-event personal calls and notes. And we partnered with other community organizations to drive home our mission in a fresh way during the program.
What were some of the challenges you faced?
It was a challenge to recreate the whole event online, after having hosted a popular in-person event for 18 years. We had to think about how to create the energy of an auction without a physical paddle raise. It was also difficult to offer auction items that didn't involve a pandemic travel timeline (such as a resort stay). And we had to constantly engage our audience with teasers and adjust the program cadence.
Did you notice a change in new attendees who might not have attended an in-person event (due to location proximity, ticket price, a limited venue, etc.)?
We had twice as many participants this time! Our digital communications focused on reaching out to our broad network of supporters, partners, and board members to spread the word. We were also grateful that this format allowed many more of our CASA volunteers to participate.
How did the donations compare to previous in-person galas?
Our donations increased by $100,000. There were significant cost savings over an in-person gala (for venue rental, catering and printed signage) that allowed us to net a greater amount.
What was the feedback you received from your attendees?
They said that it was very meaningful from the start. We had a performance by a children's orchestra that beautifully tied in with our message. The CASA video stories were powerful, focused on our mission, and added authenticity.
Now that you've pulled off a virtual gala, would you do anything differently in the future?
The challenges I've mentioned will be things to consider and improve upon. With the success of our online gala, we're considering the best ways to engage and inspire our supporters at future events, whether in-person, online, or a hybrid.
---
We were thrilled to be a partner in VFC's event branding, and be a small part of the success of their first virtual gala.
Are you considering producing a virtual event? Contact us to get our free toolkit with things to think about to create your unique, memorable, audience-focused event. And of course, we'd be delighted to help you with your event brand design.