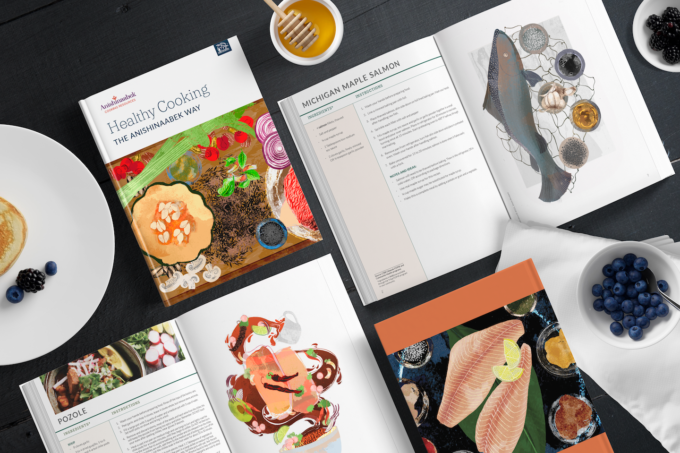 Making a difference by amplifying the amazing work of our clients.
We are fortunate to work with fantastic organizations to elevate their impact on our world. One of our most rewarding projects last year was to design the materials for the Anishinaabek Cooking Resources program, produced through the Inter-Tribal Council of Michigan's Tribal Food Access Coalition and Walmart Healthy Native Foods Project. We were delighted to support our client with the impactful work they do to build public awareness and provide valuable resources for Native American communities.
This initiative was designed to inspire healthy consumption of traditional foods through a cohesive effort with multiple touchpoints. We designed a logo, cookbook, monthly nutrition packets with cultural tips for a full year, posters and recipe cards for food distribution centers, and social media posts.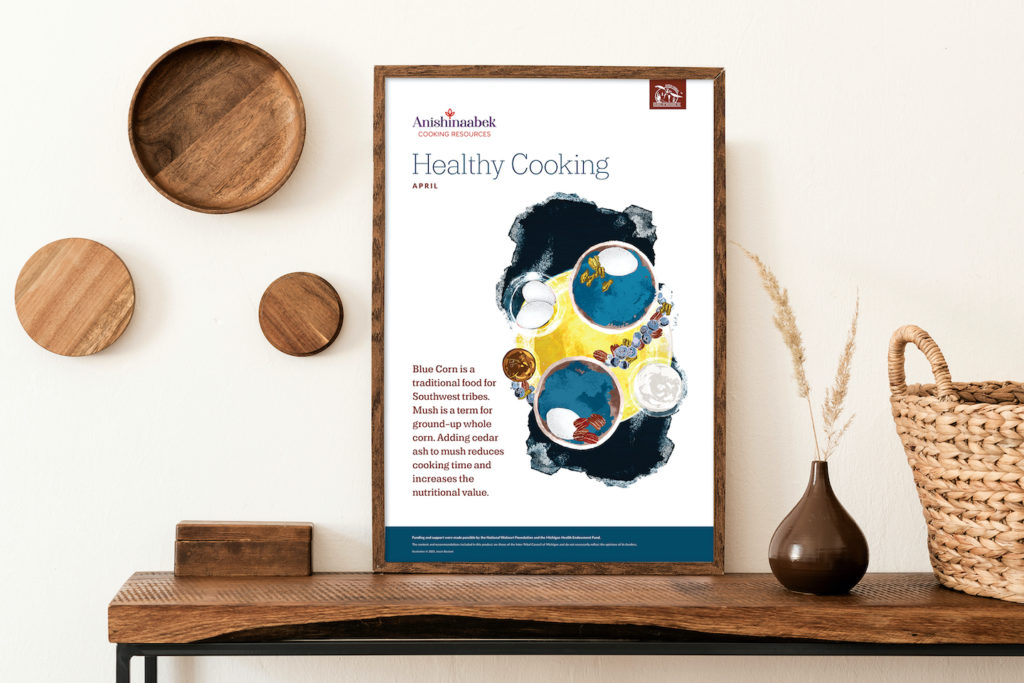 As an Indigenous Anishinaabeg First Nation woman, Jessie Boulard, our illustrator's cultural experience lent an informed authenticity to the project. Moving away from the conventional use of food photography as the main images, her gorgeous illustrations of recipe ingredients help tell the story of healthy cooking and convey a sense of handcrafted meals. Photographs of the recipes and cooking videos by Matt Lamphere provide supportive resources.
In essence, we took complex content and carefully shaped it into a narrative that is visually engaging — and perhaps more importantly — humanizing and relevant to our client's customers. We were grateful to work with a well-informed and passionate client, an incredible illustrator, and talented designer Caitlin Nelson to build a consistent and cohesive brand across all program materials.
And one of the best rewards? Hearing how delighted our client was with the outcomes.
"Studio M made the process of transforming our content into a beautiful cohesive set of nutrition and cooking resources for both digital and print options as smooth as possible. Kate spent as much time with me as I needed, helping to provide clarity to the utility of the materials and ensuring that they met the cultural needs of our intended audience."

Cathy Edgerly
Program Manager, Inter-Tribal Council of Michigan
See more work for this project.
This project is featured on the American Heart Association's Voices for Healthy Kids website.