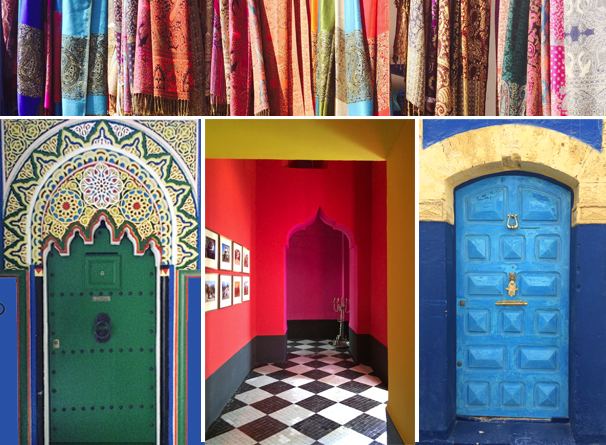 Rocking the Color Kasbah
Morocco is an absolute delight for the senses – from the sounds of drummers in the bustling markets and the aromas of tagine spices and perfumeries to the intricate tiles on mosques. What really struck me was the fantastic array of colors and patterns. Hue combinations we rarely see in the US, like pops of bright green and trimmed with dusty pink. Jewel tones we've seen only in fantasy films.
Every city has its own color palette. Ancient Fez dresses its buildings in burnished coppers, blues and greens, punctuated with vibrant reds and purples. Coastal Tangiers is awash with a muted and refined palette of wheat, cream, soft blue and lavender. Modern Marrakesh is painted in hues of salmon pink and terra cotta clay, influenced by the sands of the nearby desert, and accented with soft green and vibrant turquoise. The beach town of Essouria displays more blue hues in their doors and boats than I've experienced anywhere else. And the medinas (markets) vie for attention with a riot of colors in their displayed scarves, pottery and rugs.
In my mind, the best mini microcosm of color is Yves St. Laurent's Jardin de Majorelle with its splashes of cobalt blue accented by sunny yellow and orange pots, unified by sage green cacti. And I was enchanted by the doors everywhere with their vibrant colors and detailed patterns. I missed the amazing variety of colors when I returned to the US. Then all I had to do was to stroll down our street and be amazed again by the brightly painted craftsman homes. So whether we're in North America or Africa or anywhere else in the world, I think we all enjoy a jolt of color in our lives!